North American : NFPA
---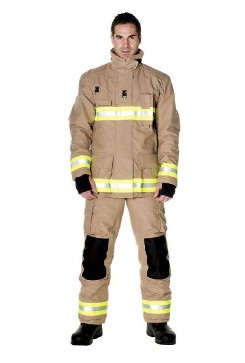 As a major global supplier of firefighter clothing, Bristol designs firefighter clothing to suit all major international standards including the NFPA specification which is used in North America and widely in Central and South America. In fact, Bristol was the first company to supply NFPA type firefighter PPE, manufactured from European fabrics in the UK, to users in the USA.
Bristol's NFPA PPE meets the recognised standard NFPA 1971:2013 and is tested independently by Underwriters Laboratories Inc. (UL) who carry out rigorous testing on all materials, components and finished garments.
There are two different designs available in different fabric combinations. Bristol's XFlex design is now available and certified to the NFPA:2013 standard as well as the Ergotech model.
XFlex : NFPA
---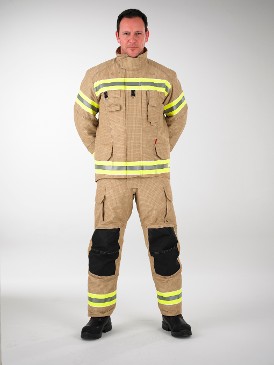 The XFlex design has been developed and will also meet NFPA 2013 . The ergonomic desgin gives the ultimate in fit and comfort for the maximum number of body types . XFlex has distinctive sports styling and is available in fabric combination that are suitable for the various hazardous roles associated with a fire-fighter's work.
The NFPA XFlex suits are avilable in the following fabric combination:
Outer: Hainsworth TITAN1220 or Pbi Matrix
Moisture Barrier: Crosstech Black
Inner Lining : Thermal Barrier quilted to Nomex filament lining which wicks the sweat away from the body and also is "slippery" for ease when putting the grament on and taking them off.
LayerFlex
---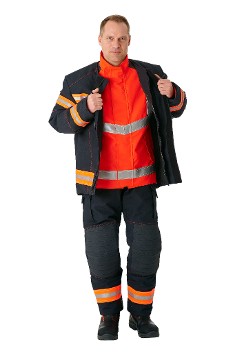 In a move away from the traditional approach to PPE design, firefighters are issued with fire coats and trousers designed for structural firefighting to be used for all operational activities. We have designed and introduced a new layered approach using three garments, which when used in different combinations, provide the required levels of protection for structural and wildland firefighting as well as technical rescue operations.These garments have been designed to ensure that a firefighter is wearing garments which are suitable for the role being undertaken, rather than wearing structural fire clothing for all roles (including Technical Rescue and Wildland firefighting).The ensemble consists of three garments:
A RescueFlex Jacket
An XFlex Outer Jacket
An XFlex Trouser